THEATRE
Maisie is a working-class Jewish director, writer and choreographer for Theatre and Opera. Her current associated companies include Bristol Old Vic Theatre, Headlong, Travelling Light Theatre Company, Stockroom (previously Out of Joint), St. Georges Hall, Prime Theatre and Hauser and Wirth.
Please
contact
for full CV including references and workshop facilitating experiance and credits.
UPCOMING
CHOREOGRAPHER - 'Candide' - Scottish Opera
Director Jack Furness, music Leonard Bernstein.
DIRECTOR - 'Opal Fruits' - Pleasance Below - Ed. Fringe - Bristol Old Vic
Pleasance Futures + Bristol Ferment.
CHOREOGRAPHER - Untitled Daniel Mendoza Project - St. Margaret's House
RECENT




DIRECTOR - 'Vixen' - Travelling Light Theatre - Bristol Old Vic Weston Studio
UK studio tour from 13th April - 5th June 2020. Written by Matt Grinter.



DIRECTOR - 'POSH' - Bristol School of Acting
Written by Laura Wade.

DIRECTOR - 'Vixen' - Travelling Light Theatre
South West Schools and regional venues tour from October-Nov 2021. Written by Matt Grinter.

DIRECTOR - 'Rechnitz (the Exterminating Angel)' - Headlong
R&D workshop at Bristol Old Vic Theatre.

DIRECTOR - 'On Eglond' - Fen
Script development undertaken as part of creative fellowship at UCL University with multi award-winning writer Rowan Evans.

DIRECTOR + WRITER - 'How to Start a Fire' - Stockroom + Fen
Film and digital theatre project featuring Franc Ashman. Supported by Rising Arts Agency and Prime Theatre and part of Headlong's UK wide 'Signal Fires' project.

DIRECTOR - 'Antigone' - Bristol Old Vic Weston Studio
Performed with the Bristol Old Vic Young Company.

INTERIM YOUNG COMPANY DIRECTOR - Bristol Old Vic Theatre
2020-2021

DIRECTOR - 'We Do, We Undo, We Redo' - Hauser and Wirth
Performed with Bristol Old Vic Young Company in response to the 'Unconcious Landscapes' Exhibition at Hauser and Wirth Somerset.

CHOREOGRAPHER - 'The Little Things' - Tobacco Factory Theatres
Film directed by Jay Zorenti-Nakhid and created with Tobacco Factory's Young Theatre Makers.

CHOREOGRAPHER + ASSOCIATE DIRECTOR - 'Make More Noise' - Bristol Old Vic Theatre
Director. Lisa Gregan. Intergenrational community performance.

WRITER - 'Our House is on Fire' - The Egg Theatre
Director. Julia Head.

CHOREOGRAPHER - 'Swallow' - Bristol Old Vic Theatre School
Director. Chloe Masterton

CHOREOGRAPHER - 'St Joan of the Stockyards - Bristol Old Vic Studio
Dir. Nik Partridge. Performed with the Bristiol Old Vic Young Company.

DIRECTOR + CHOREOGRAPHER - 'Spill: A Verbatim Show About Sex' - UK TourDeveloped as part of Bristiol Old Vic's Made in Bristol Programme, UK tour including Bristol Old Vic's Studio and The Belgrade Theatre.

DIRECTOR + CHOREOGRPAHER - 'Zugunruhe' - Mechanimal
UK tour, winer of the Herald Angel Award.



TRAINING


Ruskin School of Art 2019-2021
Fine Art, MFA, part time, Distinction, winner of the Rex Warner prize for poetry and prize for outstanding academic achievement.

Headlong Origins Artist 2020
Headlong Origins is a Director's scheme designed to support the development of Directors across the UK outside of London with the ambition to celebrate and nurture undeniable emerging talent that exists throughout the UK.

Gecko Theatre
Associate artist training 2019, Maisie was the Bristol Old Vic Associate Artist for Gecko Theatre's 'The Wedding'.

Made in Bristol 2014-15
A year in residence at The Bristol Old Vic with a focus on devised collaborative performance.

Liverpool Hope University 2011-2014
Bachelor of Arts With Honours (Single). Drama (Full Time Programme) First class.



TESTIMONIALS

"An atmosphere of haunting dystopia that fits the use of electronic dance music as well as the Baz Luhrmann-style choreography" - Bristol 24/7 on 'The Love of the Nightingale'

"Brilliantly choreographed" - The Fine Times on 'Make More Noise'

"Here we could tick off Hofesh Schechter's Political Mother in some of the viscerally exuberant movemen sections" - Kris Hallet, Reviews Hub on 'St Joan of the Stockyards'

"Maisie Newman's impeccable direction is so fluid, and the cast so well rehearsed, that they appear to flow around each other with ease - ★★★★★"
- Everything Theatre on 'Spill: A Verbatim Show About Sex.'

"An immensely bold production and an incedary blast against those in power" - Stagetalk Magazine on 'Antigone'.


KEY SKILLS

Professional experience as a movement director and choreographer for actors, non-dancers, physical theatre performers and dancers for studio, main house and site-specific performances

Professional experience with multiple institutions including Bristol Old Vic leading workshops for, working with, directing children, young adults aged 5 - 25 and vulnerable adults

Experience directing, and knowledge of, translations as well as classical and experimental theatre texts

Extensive experience mentoring and supporting young people in both theatre and school settings incl. SEN schools

Experience as a film editor and director and experience documenting theatre performances

Experience choreographing and directing large casts of 80+ performers

Background in devising and dramaturgy
Specialises in developing new work and writing

Ruskin MFA

Examination Prize for outstanding academic achievement
Maisie was a recent winner of the Rex Warner poetry prize:

Maisie's work is a "visceral and elemental exploration of birth, death, and language, which is full of vivid imagery and evocative word-choice. The collection handles its dense literary and historical references unobtrusively and mixes genres, blends languages and blurs the boundaries between letters and images in a way that is both ambitious and successful."

please contact for cv

Underpinned by writing, my practice unfolds outwards into materiality: into objects, substances like oil, water or soil, visual documents and the construction of embodied spaces. Often navigating cultural erosion, my work is an attempt to untangle the transmission and untranslatability of Jewish histories, identity and trauma, and how these are able (or unable) to be mapped onto language. The work is the culmination of various attempts to unpack myself as an archival space. I start with words, the body, or a crack in the wall. I am finding the evidence of something in my flesh, maybe a route out of or into somewhere, or a forgotten history, or a language. I am trying to orientate and gather myself in the Void but I keep slipping in and out of coherent thought. I cast out a net to collect residual materials but now our veil is covered in mud, we are trying to see through it but the flies are making it difficult

and the velcro stitching
(on the back of the dress)
has ripped a metal taste in our throat
we have forgotten our name
this new one keeps slipping
into the folds of our mouths
secreting a wax
we can't find the papers
archival bookwork in an edition of one
printed and bound by Book Works
Book 15x9cmx1 cm
Display case 15x9x8 cm
Solander box 32x 23x11 cm
I have been thinking about the making of boxes and how we gather and store family histories and records. I have also been thinking about the collection of documents in boxes and the necessity for information to be hidden, alongside the consequence of that concealment being that memories or histories become lost. I have been thinking about how we display these histories in museums or libraries, how rarity or loss can lead to protection or occlusion, of items wrapped in black book cloth and stored in drawers or boxes in well-ventilated basements.

A Book of Visions is an archive of documents (or evidence) from moving through the Void, approaching an occluded family history and loss of cultural identity. It is an attempt to parallel actions of archiving and documenting and to understand the gathering of family history as a practice within itself. An attempt to reconnect to a culture that was slowly lost and silenced before it reached me, in response to assimilation, or to fear, or to ancestral trauma.

The bookwork's language is that of evidencing, of naming and archiving the experience of relearning a Jewish identity.

2021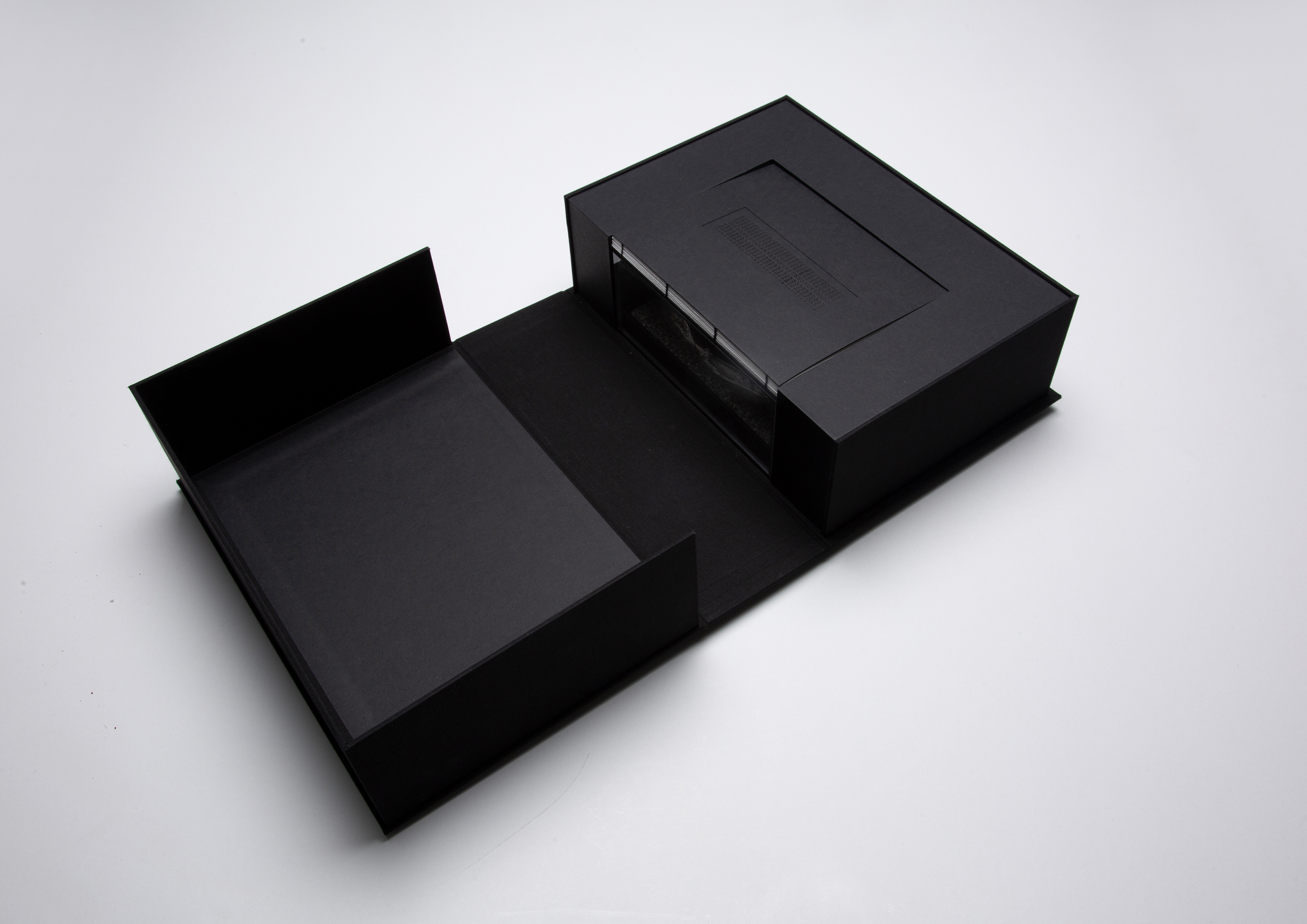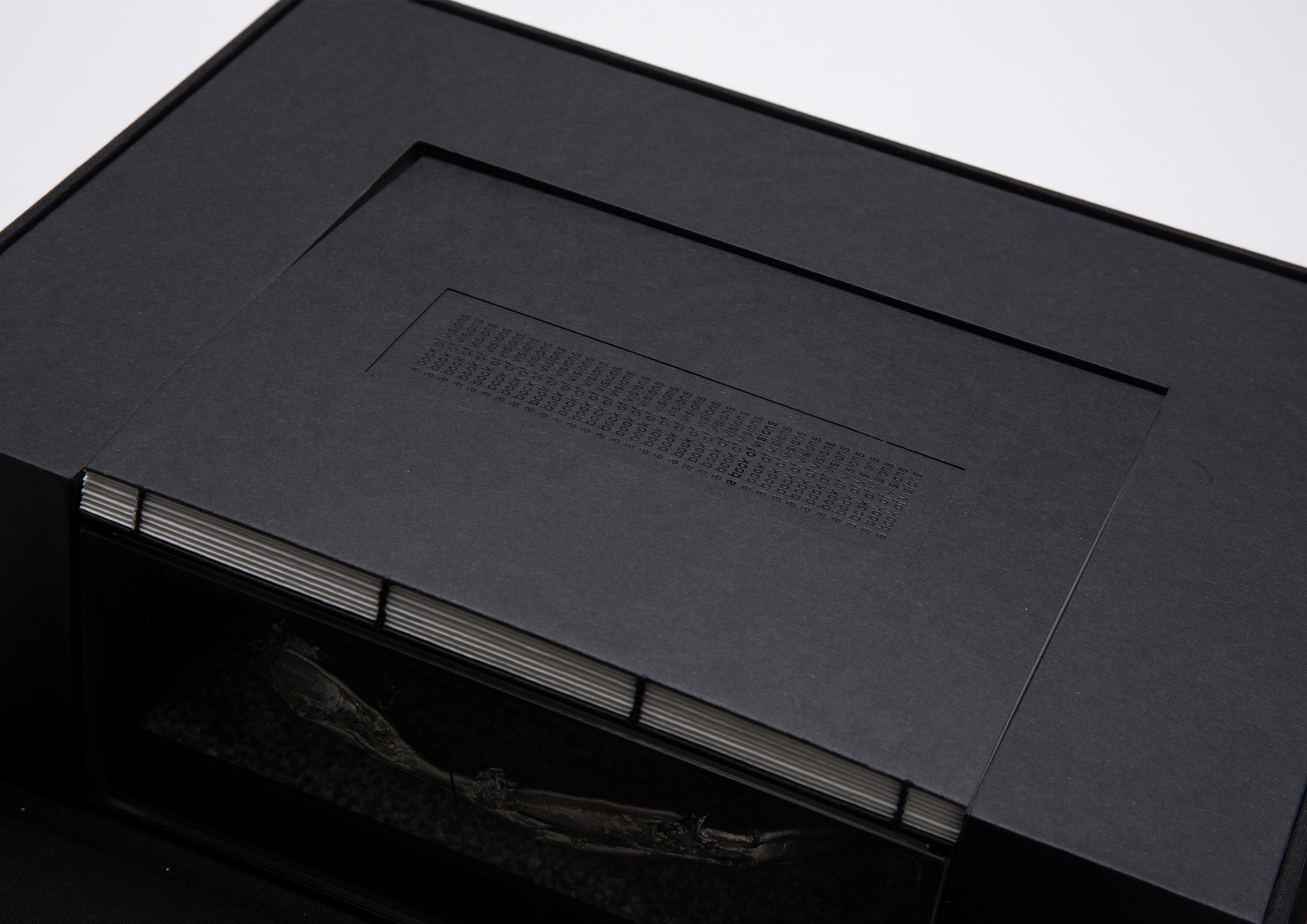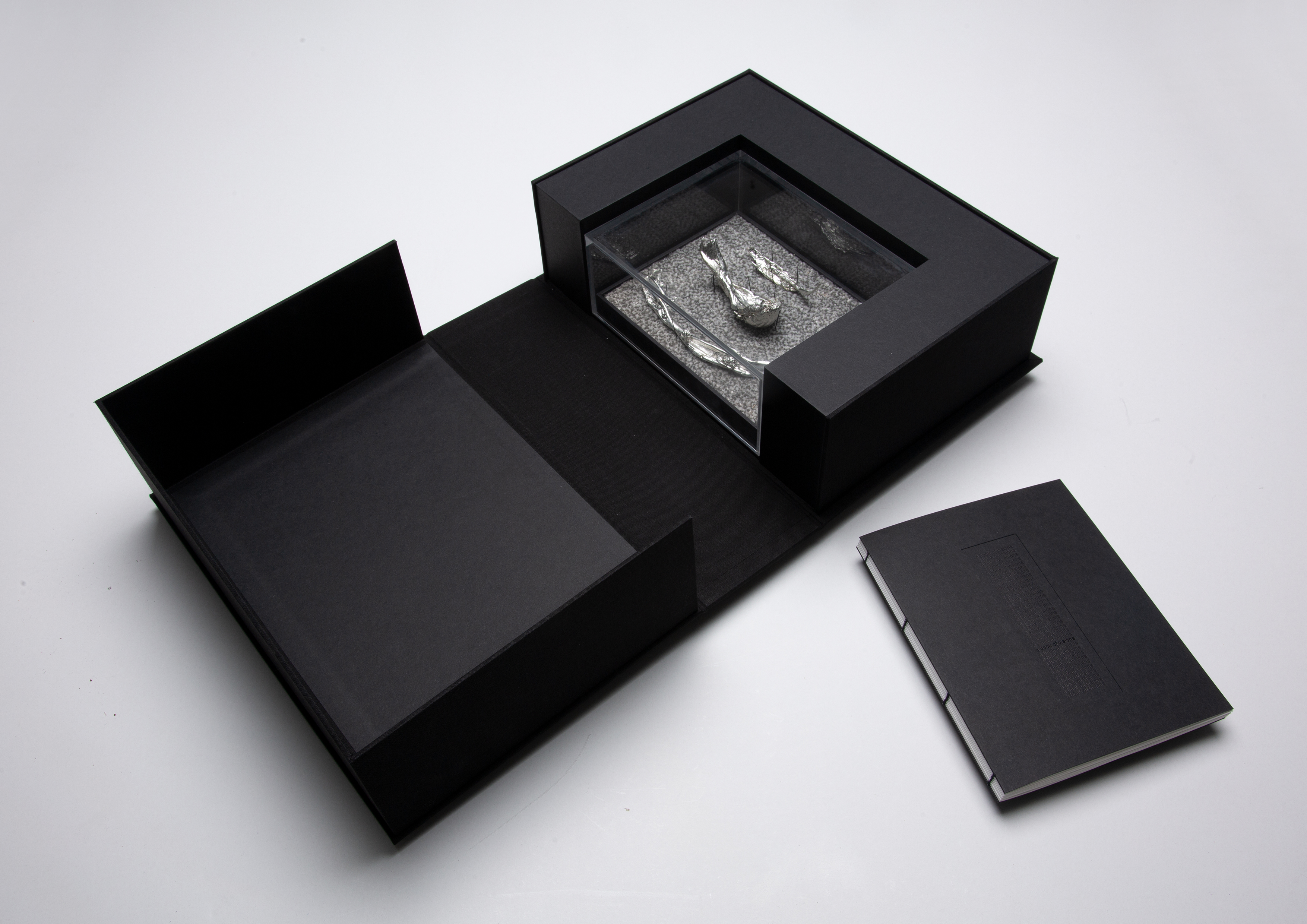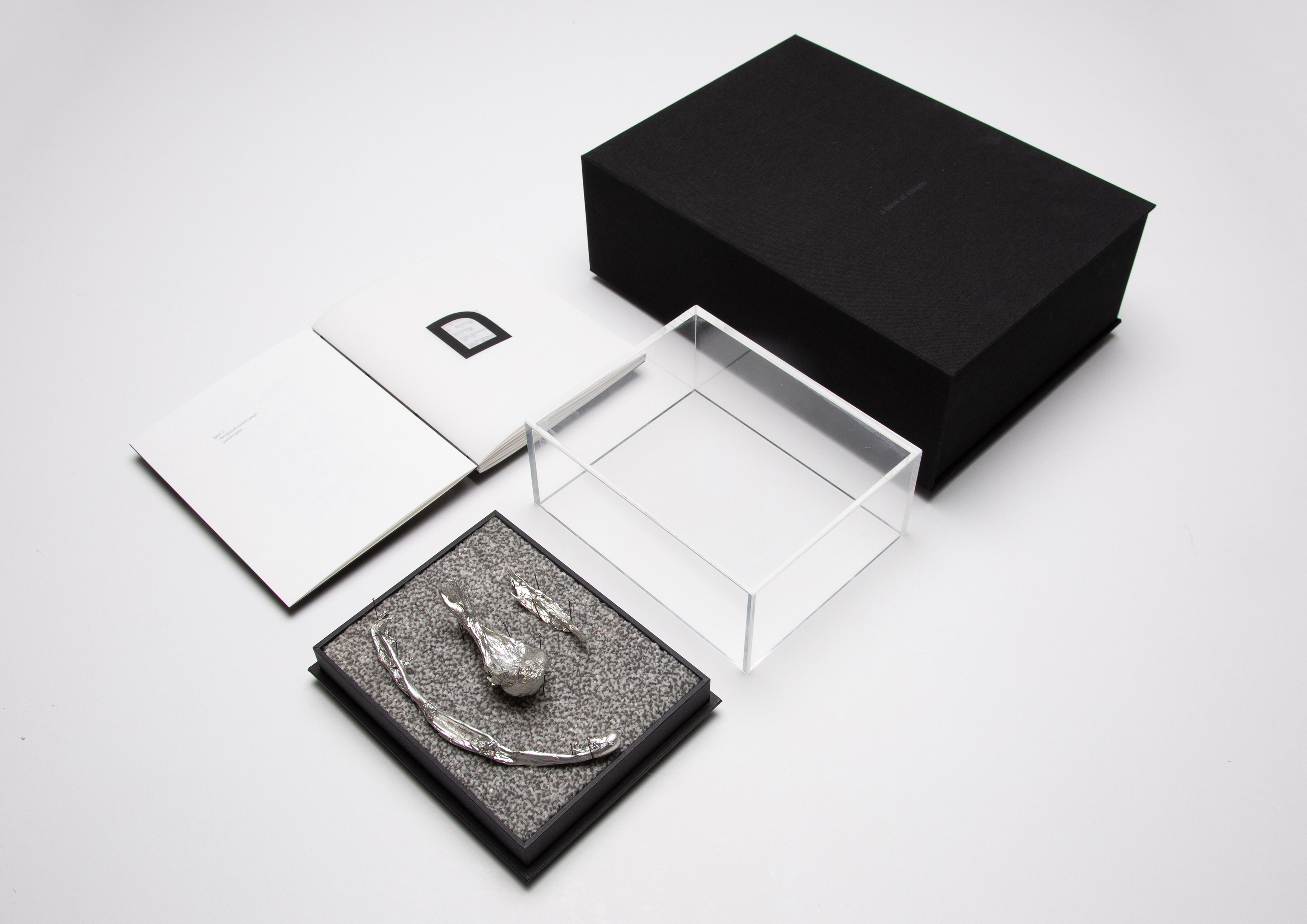 filmwork, 2021
How to Remember a Name is an embodied encounter with the void. The film navigates the transmission of mistranslated or misremembered history, language, cultural practice and violent mythologies. It places the short untangling of my interaction with, and loss of, Jewish culture against the fathomless void of wider Jewish history and collective trauma. It is an attempt to conjure visions of the burrow, to trace the edge of a crack in the wall and the text, to open and refocus a claustrophobic, alternative space: one of ritual and the body and its relation to vulnerability, shame and memory.

The work features an audio recording of an interview found on YouTube while researching The Battle of Cable Street (Worldwrite). It is of the historian William J Fishman (Bill), a relation of mine, who I met only once.

extract availble to watch >

please contact artist to view full work
2021